When it comes to the best electric chain hoists for 2022, CM and Starke are the big winners. Find out more about how and why each hoist won out on reliability, features, and price in our run down.
We have selected the three best electric chain hoists in 2022 based on their reliability, features, and price to help you make a more informed decision.
Making the most informed purchase decision is a crucial task for any workspace manager.
In this article we want to help clear through the marketing hype and get down to the important factors to consider when choosing the best electric chain hoist for your needs.
We have selected three models that we feel cover every possible requirement and offer something for every budget with superior build quality and reliability.
Qualifications for Making This List
An electric chain hoist is a crucial piece of work area equipment that can improve manufacturing capacity and reduce the risk of injury in the workplace. That is why we have chosen these three categories to qualify each model for a place in this annual roundup.
Getting the combination of these three factors right is key. The goal is to get the most out of your investment and generate more sustainable long-term production in your workspace.
Reliability
Reliability is arguably the most important factor because minimizing production downtime can save a company a huge amount of money. Much more than the few hundred dollars price difference between hoist models.
Features
There are three features that are essential when choosing an electric chain hoist:
Control Type
Most electric chain hoist systems will use transformers to step down the control voltage in order to minimize any risk of injury from electrical shock. This means that the mains voltage can be controlled to offer multiple hoist speeds and reduce strain on the motor by assisting with braking.
The majority of electric chain hoist systems in the U.S. feature 120V controls.
Single or two speed contactor controls are used for single and two speed chain hoists.
A Variable Frequency Drive (VFD) is used to provide variable lifting speeds. To do this, the AC motor speed and torque are adjusted by varying the voltage.
Lifting Speed
With such a wide variety of lifting speeds available on different chain hoists, you need to consider different application factors to make the right choice.
Different lifting speeds are measured in FPM (feet per minute) and will vary from between hoist models and manufacturers. They can be as low as 2.5 FPM or high as 85 FPM.
The industry standard for lifting loads of up to 1 ton is 16-26 FPM and 3 tons is 10-20 FPM. These figures can serve as a general rule about what to expect, but depending on the application and specific requirements, you can choose an outlier.
For example, if you need to hoist loads a long distance, it could be worth considering an electric chain hoist with a higher FPM to improve efficiency. However, large loads present an increased safety risk and put significant pressure on the hoist system. Therefore if you require a high capacity electric chain hoist (over 5T), the speed will generally be much slower.
Speed Type
When it comes to the speed of an electric chain hoist, it is split into three primary categories:
Single Speed: The hoist only has one "normal" lifting speed that is usually determined by the capacity.
Two Speed: When two speed options are available, it is common that the second speed will be half or less than half the other to allow for more precise load positioning.
Variable Speed: This provides precise and flexible control for lifting loads. This is also the best option if you will be using the same chain hoist across multiple applications.
Some models of electric chain hoist can combine variable speed with one, two, or even three speed options to provide greater flexibility.
Price and Rating
When considering the price, you want to make sure you're buying a hoist that is H4+ rated as it will have a higher duty cycle providing better value for money.
With the broad range of electric chain hoists available, you can expect to pay anything from $200 to $5,000. Remember that a more expensive hoist isn't necessarily better quality. Your choice of electric chain hoist should be driven first and foremost by your requirements.
Variable speed hoists are generally more expensive but what they provide is definitely worth the investment if adjusting the lifting speed is important.
This is mainly because they offer unlimited flexibility in speed control making them suitable for any application. It's a future proof investment because if your lifting speed requirements change over time, you have a hoist that will still meet your needs.
The alternative is that you could invest in a single or dual speed hoist for your current requirements and be forced to make additional purchases in the future to handle changes in production.
There is one thing to bear in mind with a variable speed electric chain hoist. While minimal training is required, there will be a learning curve for the customer in using the hoist over a long period of time.
My Favorite Electric Chain Hoists
Now, on to our selection of the three best electric chain hoists in 2022. Each has excelled in all the categories we are judging them on and thoroughly deserve their place in this list.
CM Shopstar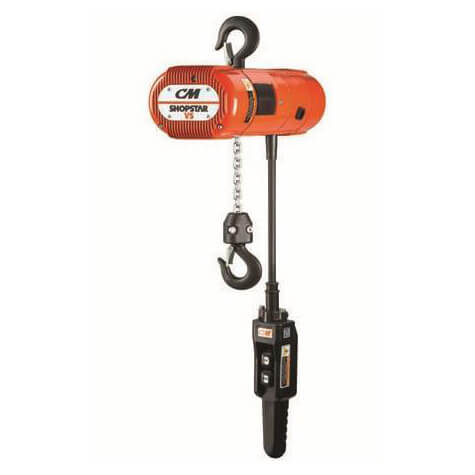 With Columbus McKinnon's 135 years of experience in commercial and industrial safety equipment, it would have been impossible not to include at least one CM product in our lineup.
The CM Shopstar is designed for precise load management in rugged commercial and industrial work areas. The hoist is available with 2-speed, 2-step infinitely variable, 3-speed and 3-step infinitely variable controls for single and 3-phase applications.
Each control model, minus the 3-step infinitely variable speed, is available with the ergonomic Rocket Pendant that offers great operator comfort and control with the use of a simple rocker switch.
Further improving operator use is the Shopstar interface. Operators can plug the hoist into their computer via a USB connection to inspect motor run times and performance information. The interface is very easy to use and features built-in error prevention to ensure that the hoist is programmed correctly reducing the risk of improper use.
Plus, thanks to its capability of over 300 motor starts per hour, it has been given an H4+ rating which represents its exceptional value for money.
The hoist frame is completely sealed making it suitable for use in any environment and the gearing system is lubricated with oxidizing grease designed to last the entire lifespan of the hoist.
With a compact body, the CM Shopstar is ideal for use in tight spaces and it helps to facilitate easy installation and more convenient maintenance.
Prices for a CM Shopstar range from $1,500 - $3,500 and a lightweight option is also available for loads of up to 1000# capacity.
CM Lodestar VS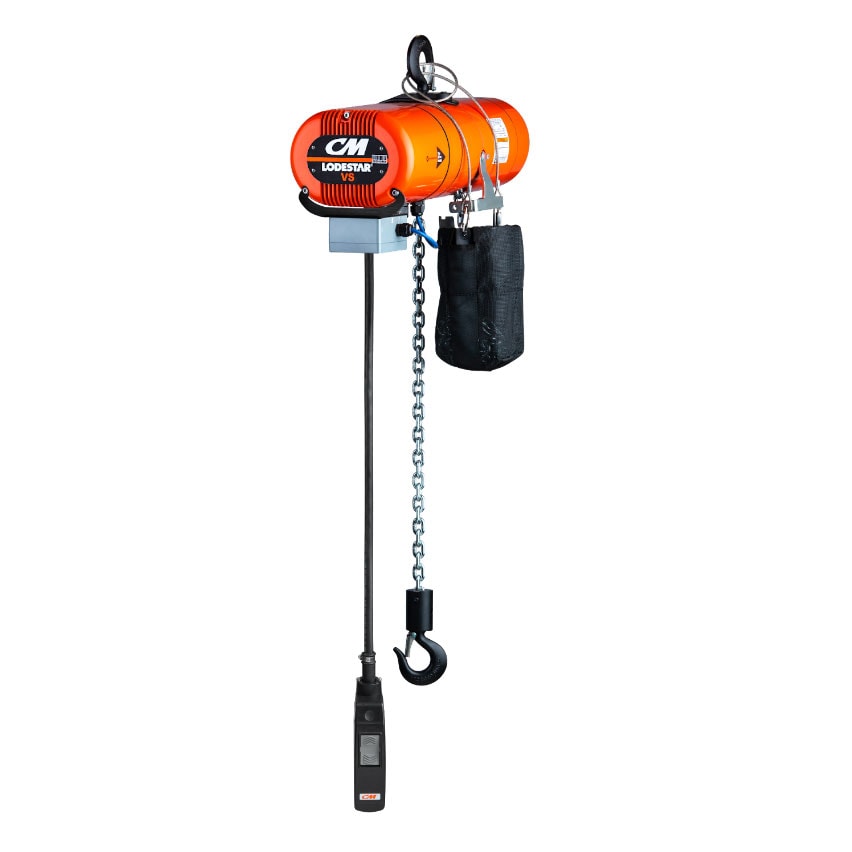 The CM Lodestar VS is an infinitely variable control electric chain hoist with a significant difference.
As the first smart electric chain hoist, it features a unique technology allowing the operator or supervisor to wirelessly program, maintain, monitor, and even troubleshoot performance using an app.
The Intelliconnect system also provides its own secure Wifi network, removing any need for a Wifi connection in your job site.
The system allows you to view:
Trending data (output current, motor speed, etc)
Event logging
Remaining hoist operating life
An inspection log to track maintenance
User manual and guide access
Feature access for programming and parameter adjustment
The Lodestar VS comes in a range of capacities from 1/8 to 3 tons, features the Rocket Pendant (on all models minus the 3-step infinitely variable), and comes with a lifetime warranty.
CM Lodestar VS prices range from $3,000 - $6,500.
Starke STK Series Hoist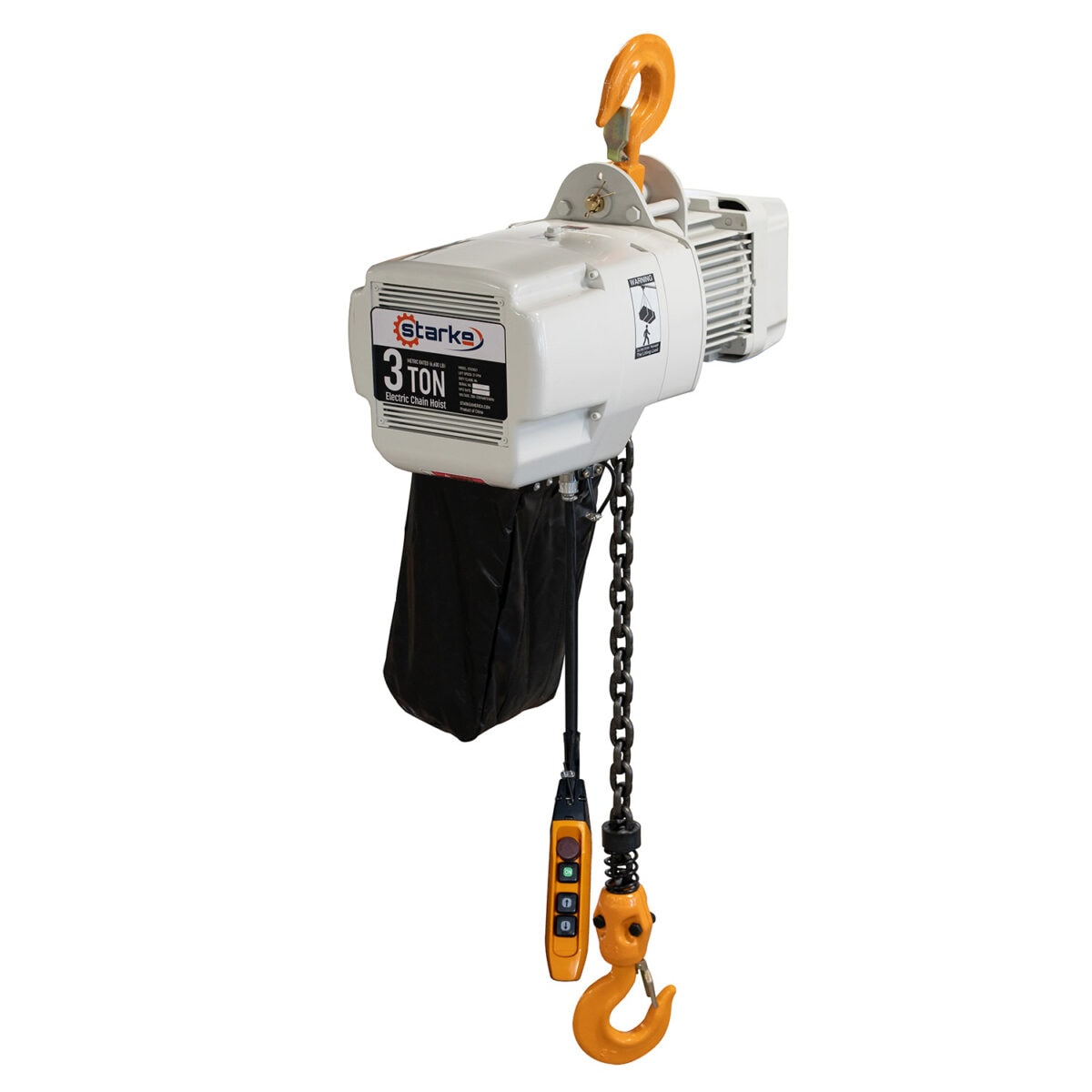 The Starke STK series made it onto our list because it represents a great price point, superb value, and great build quality.
As a single speed hoist, its FPM is dependent on the load but it does provide up to 26 FPM which is higher than comparable Lodestar models from CM.
The lift speeds are:
1⁄2 Ton: 26 FPM
1 Ton: 26 FPM
2 Ton: 26 FPM
3 Ton: 21 FPM
5 Ton: 11 FPM
The Starke STK can also be wirelessly operated using the INMOTION Radio Remote Control System (available separately) from up to 300 feet away.
The price is really where the Starke STK shines, available from only $1800 and up to $4500 it is a highly economical solution for work areas that may only have infrequent or intermittent hoist requirements. It would also be ideally suited when a large number of units are required in multiple locations.
Where to Get the Best Value on Electric Chain Hoists
When shopping for the best deals, it's likely you will think to look online as you would with most purchases. But in many cases, when it comes to work site equipment you are likely to find the best deals by going directly to a supplier, such as PWI.
Smaller work areas and jobsite managers would likely be looking for a single purchase items which means that the prices are highly competitive. From our experience, we would suggest that you can likely find the best deals at hoistzone.com.
However, if it is suitable to your needs, we would always suggest bulk ordering to get the best value for money.