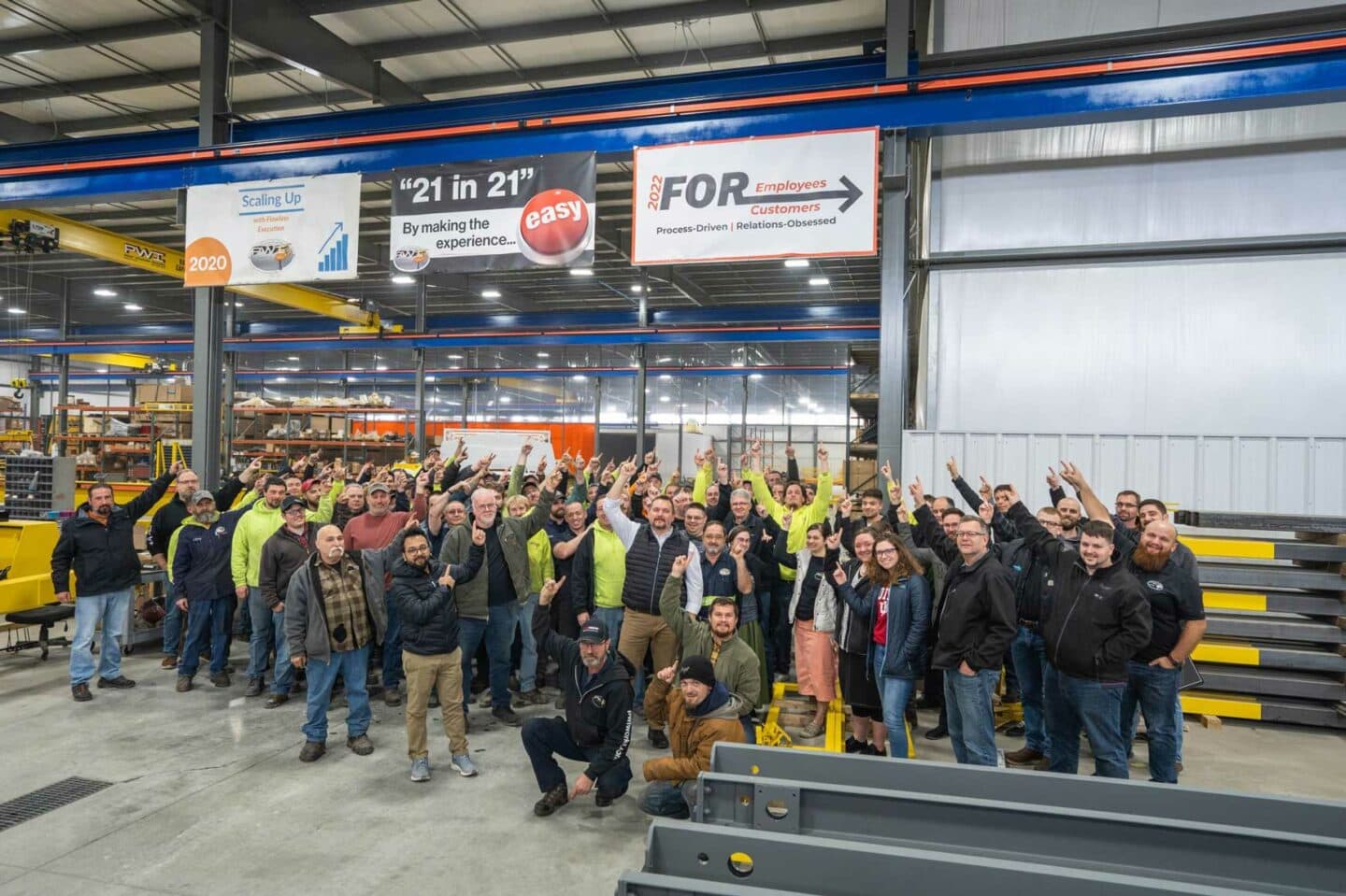 Careers at PWI

We Look Forward to Mondays
Why do we look forward to Mondays? We get Americans back to work and help them do it better than before.

Helping Americans Get Back to Work

Our products help American manufacturing increase production while improving safety for their workforce.
No dead-end jobs or desk monkeys here. PWI is 140+ team members strong and we need smart individuals like you to join the team. We design and build the backbone of manufacturing in northern Indiana and we need your help to take our products from coast-to-coast.


Ron Breniser - Shipping - Hired June 2022
Available Positions

If you don't see a position you're interested in, you are still welcome to apply!

CDL Driver
Deliver finished products to customers across the nation.
What It's Like Working at PWI

Jim Hartung - Sales & Project Management - Hired March 2022
Jason Gingerich - Welder - Hired December 2019
Noah Diaz - Engineering - Hired July 2020

Sam Ran - On-Site Crew - Hired August 2022

Employee Benefits
We don't just care about our employees — we care about their families too. We offer many financial, health, and vacation benefits.

Health Insurance
We offer three health insurance options: Employer-sponsored health insurance, MediShare, or the ability to choose your own health insurance. All three have a generous HRA that offsets out-of-pocket costs.

401K Retirement Plan

You can get up to 4% company match with ROTH options available. Available after 1 year of employment.

Generous PTO

Get up to 3 weeks of paid vacation. All national holidays are paid days off. You will also get your birthday off with a cash bonus.
7 Year Anniversary Trip
After every 7 years of being employed at PWI, you and your spouse can enjoy an all-inclusive vacation paid for by PWI.
Casual Attire
No suit and tie required. We provide branded shirts and uniforms for all employees.

Profit Sharing
Paid annually in January. Available for non-production employees.
Incentive-Based Weekly Bonus Structure

Available for production employees.
Family Owned – Christian Values
PWI is a second generation company owned by people who care. We believe in always doing the right thing for our customers and for our employees.

Career Growth & Opportunity
We always try our best to hire internally for a new position. We believe in investing and training our employees so that they can work their way up the ladder.
Zero Gossip

We have a strict zero-tolerance policy for gossip, drama and swearing. This helps us create a positive, toxic-free working environment.
Financial Wellness

We will reimburse you for a budgeting app that will help you get out of debt and save for the future.

Team Events

Throughout the year we have optional team events where we gather and share a meal, volunteer, and have our annual Christmas party.

Wellness Reimbursement

We will offer a flat dollar amount to go towards your involvement in a fitness facility or activity.

Apply Now

Our Hiring Process
Our hiring process typically takes 1–2 Weeks. The process isn't just for us, it's also to make sure PWI is a good fit for you.
Initial Interview with HR Director
After we've reviewed your application, we'll call you to set up an interview either remotely or on-site.

Interview with Supervisors
You'll interview with some of the people you would be working with and your supervisors.

Interview with Department Leads

Depending on the position, you may have the opportunity to interview with department leads.

Apply Now

Our Onboarding Process

All the tools you need to succeed.
Part of how we invest in our employees is by giving them all of the tools they need to succeed at their job. That starts with our onboarding process. You'll learn all of the in's and out's of PWI, important policies, and meet team members.
Apply Now

Personal Employee Handbook
Tools & Equipment Provided

Lunch with the CEO (and other new employees)
What Our Employees Say

Guys, this is a great place to work. This is a company that puts just as much care and effort into its people as it does into the quality of the product. The hours are great and the job is fun.
We design, build, and install overhead cranes, mezzanines, and fall protection as well as many other products. Awesome company to work for and grow with.