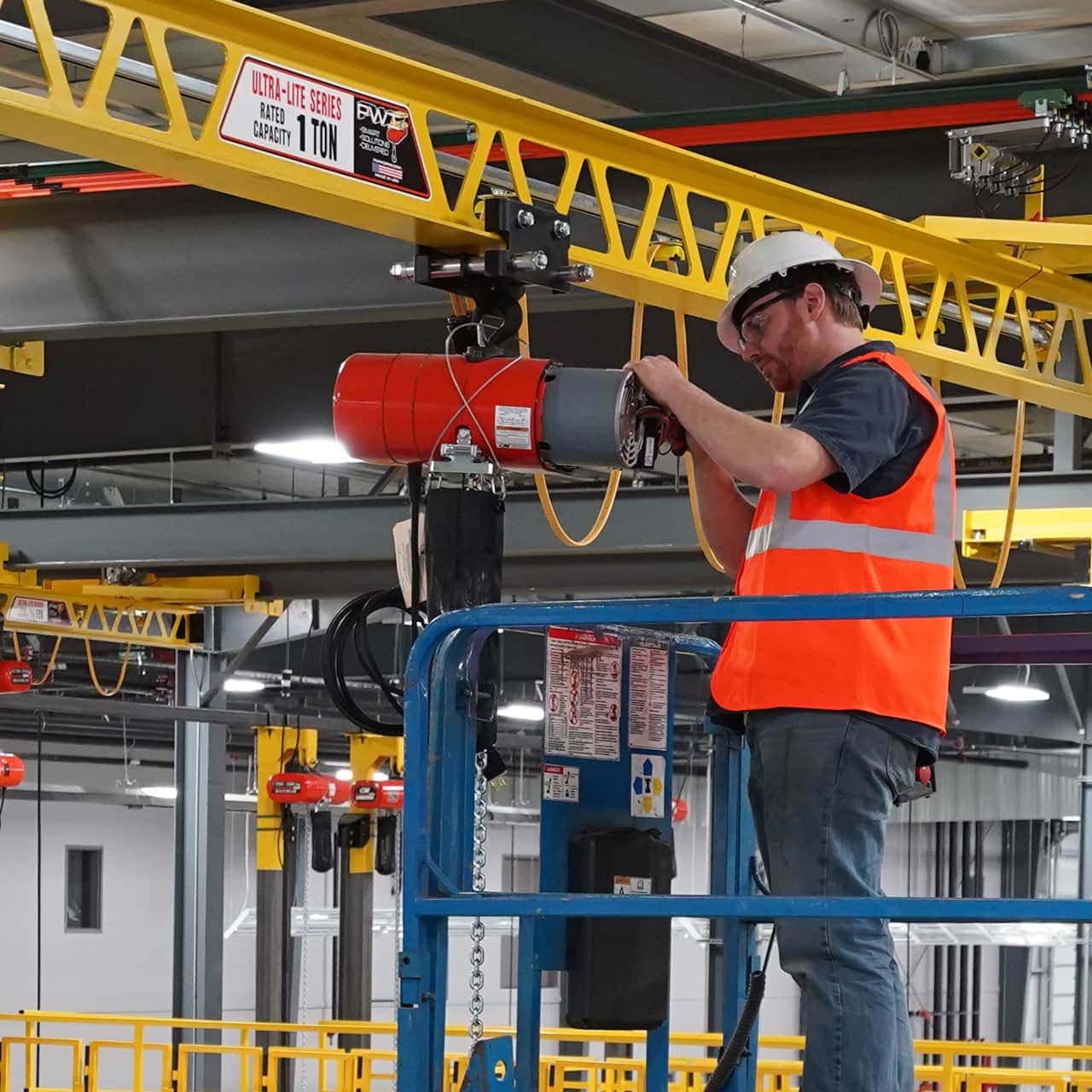 Customer Service Technician
Prevent and Diagnose Problems
Take Care of Customers Across the Country

Job Description

Responsibilities

Work in a safe manner while displaying proper conduct and integrity at all times
Perform maintenance, inspections, troubleshooting and repairs on all types of overhead cranes and hoists
Document deficiencies and findings using Inspectall software
Clearly communicate, review, make corrective recommendations of findings to the customer
Build and maintain customer relationships by maintaining and providing good response times, communication, and quality repairs to our customers in a timely manner
Read, understand, and apply OSHA, ANSI, CMAA, and PWI SOPs to your work
Read, understand, and follow technical drawings, schematics and wiring diagrams
Maintain company vehicles and uniforms in a clean and presentable manner
Requirements
To perform this job successfully, an individual must be able to perform each essential
duty. The requirements listed below are representative of the knowledge, skill, and/or
ability required with training available as needed. Reasonable accommodations may be
made to enable individuals with disabilities to perform the essential functions.
Education or Experience
Experience in industrial mechanical and electrical maintenance - 1+ year (preferred)
Experienced troubleshooting industrial electrical - low voltage thru 3 phases: 1+
year (Preferred)
Experience with VFD's is a plus.
Experience with PLC's and relay logic (Preferred)
Certificates, Licenses, Registrations
Possess or able to obtain hoist inspector certification
Must have a valid driver's license with good record and able to be insured by PWI
Other Skills & Abilities
Able to pass a drug test and background check
Able to use basic hand tools (screwdrivers, wire cutters, etc.)
Basic MIG welding experience is a plus
Experience using a tablet for web browsing and use of Microsoft Office and Excel
Physical Abilities
While performing the duties of this job, the employee is regularly required to stand,
walk, climb, stoop, kneel, crouch, reach and use hands and fingers to handle or free
objects.
The use of common hand tools and occasionally sharp tools are involved.
Must be comfortable working at heights, in different conditions and environments.
The employee frequently is required to talk, hear, and communicate with other
employees both in person and while using a telephone.
The employee must be able to move and/or lift objects up to 50 pounds often.
Specific vision abilities required by this job include close vision, distance vision,
color vision, peripheral vision, and depth perception.
Cognitive and Communication Abilities
Able to perform basic math using money, weight, and distance measurements.
Able to communicate and present information in one-on-one and small group situations to customers, clients, and other employees in both verbal and written
forms of English.
Ability to apply commonsense understanding to carry out instructions furnished in
written, oral, or blueprint form.
Location
Willing to work on-site at PWI in Nappanee, Indiana
Willingness to occasionally travel overnight or out of state (Preferred)
Compensation
Range is an average wage. Compensation is largely dependent on experience.

Hours
Normal Hours are Monday through Friday 5:00 AM - 3:00 PM