Every mezzanine floor and elevated platform is required to have some form of egress. The question is what type exactly.
Forms of egress are most commonly stairs or a ladder, but these are not interchangeable. They are dependent on whether your mezzanine floor is intended to be occupied or if it is merely for storage.
Each purpose requires compliance with a different code and regulation, therefore understanding the difference is crucial to avoid safety or audit issues.
If your mezzanine is for use by occupants and not only for storage, you will need at least one set of egress stairs to provide safe access and conform to IBC code requirements.
What's the Purpose of Egress Stairs?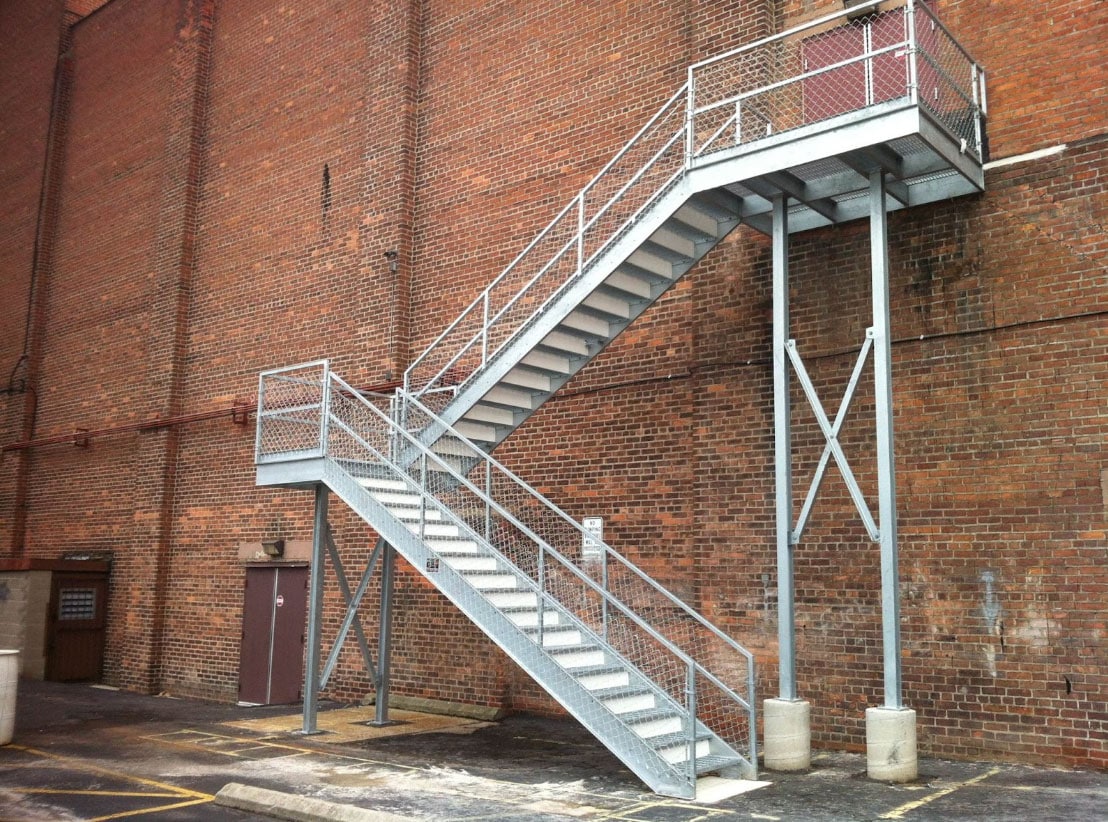 Egress stairs are designed to provide safe, suitable, and code-compliant egress from a mezzanine floor.
This is due to fire regulations requiring a safe exit in the case of an emergency. A mezzanine floor needs to provide a protected, continuous, and unobstructed path of travel to the exit of the building.
Because a mezzanine floor is considered an extension or portion of the floor below, it is included in the total building floorplan and therefore must be factored into the fire area. The egress from the mezzanine floor will almost always need to be in the form of industrial stairs.
There are four crucial definitions that help understand the purpose of egress stairs:
Floor Area
The space on one story of a building inside of the exterior walls (not including exits).
Means of Egress
A continuous path of travel to escape from any point in a building to a public area.
Access to Exit
Part of the means of egress in a floor area.
Exit
The means of egress from the floor area, opening on to an open public area.
In order to be IBC code compliant, a form of egress is required for all mezzanines and elevated platforms. What that form of egress is will depend on the purpose and use of the mezzanine floor.
When Is an Egress Stair Required?
Simply put, all types of mezzanine floor require a form of egress stairs. The exact type of stair will depend on the use and purpose of the mezzanine floor.If the floor is used by occupants it will require an IBC Code compliant industrial stair to access it. The number of egress stairs required will depend on the size of your mezzanine floor and its occupant capacity.
Small mezzanine floors that serve fewer than 49 occupants and are below 250 square feet in size only require a single exit stairway in order to be IBC compliant. Mezzanines of a larger capacity and size will need at least two industrial egress stairs.
An equipment platform is a type of mezzanine floor that is unoccupied and used exclusively for the storage of production or manufacturing equipment.
As an unoccupied area, an equipment platform is not considered a portion of the floor below. This means that it is not included in the fire area and therefore does not require IBC compliant industrial stairs.
However, equipment or work platforms need to comply with the OSHA catwalk requirement guidelines for access.
This states that they will still require an egress stair, but the site owner can choose from a number of different forms to access the catwalk.
OSHA Catwalk Options
Standard stairs
Alternating tread stairs
Ship stairs
Spiral stairs

IBC does have something to say with regard to each of these egress stair types.
Under Section 1011.14, alternating tread stairs can be used as egress from mezzanine floors in building Groups F, H, and S as long as the mezzanine is no more than 250 square feet and serves no more than five occupants.
Section Section 1011.10 states that spiral stairways are permitted as a means of egress only from dwelling units, technical production areas (in accordance with Section 410.6), and spaces of no more than 250 square feet and servicing up to five occupants.
Ship stairs are not allowed under IBC guidelines.
Trust the Egress Stair Experts
PWI is here to help guide you through IBC and OSHA compliance to make sure that you invest in the correct products and avoid any costly oversights when it comes to inspections.
If you are still unsure what egress stair your mezzanine floor requires or have any other questions, call (574) 646-2015 and talk to an egress stair expert.
Ready to get started now? Well you can submit a quote request and we will get the process started right away.