If you're looking to increase workplace productivity and reduce the risk of injuries, a jib crane is a great solution to localized load handling, but what are the alternatives?
A jib crane is a type of overhead crane. It is made up of a mast and a cantilever beam with a hoist fitted to it. They are generally used within smaller work areas for repetitive lifting tasks.
They are a great way to increase workplace productivity and reduce the risk of worker injuries when handling loads in a confined workspace.
In this article, you will learn about the different types of jib cranes, their advantages and disadvantages, and whether you might be better off with another crane system.
Before you invest in a jib crane, read on to make sure it is the right solution for your work area.
What is the purpose of a jib crane?
A jib crane is designed to handle a wide range of loads in small work areas. They have a simple and compact design that is perfectly suited for production because it can increase worker productivity and improve workplace safety by providing convenient material lifting.
While installation can vary in complexity, all jib cranes have a minimal footprint, or even none at all, making them very practical in tighter work areas.
A jib crane is used most commonly in smaller work areas for another good reason. Their ability to rotate up to 360 degrees makes a jib crane incredibly versatile and efficient in moving loads within smaller work areas or around corners.
There are also options that can operate with minimal headroom meaning they can easily be used in conjunction with other overhead crane systems.
How much can a jib crane lift?
The load capacity of a jib crane is dependent on what style of crane you choose.
There are three main types of jib crane, categorized based on their structural design and support attachment method:
Free-standing jib crane
Mast-type jib crane
Wall-mounted jib crane.
High-performance jib cranes use a structural beam to support the hoist and the mast is permanently fixed either to the wall or floor. While the mast is fixed, it is still free to rotate either 360 degrees if it is floor mounted, or 180-200 degrees if it is wall mounted.
Due to the structural nature of each jib crane, they generally have a relatively low capacity, typically ranging from 100 pounds to 5 tons.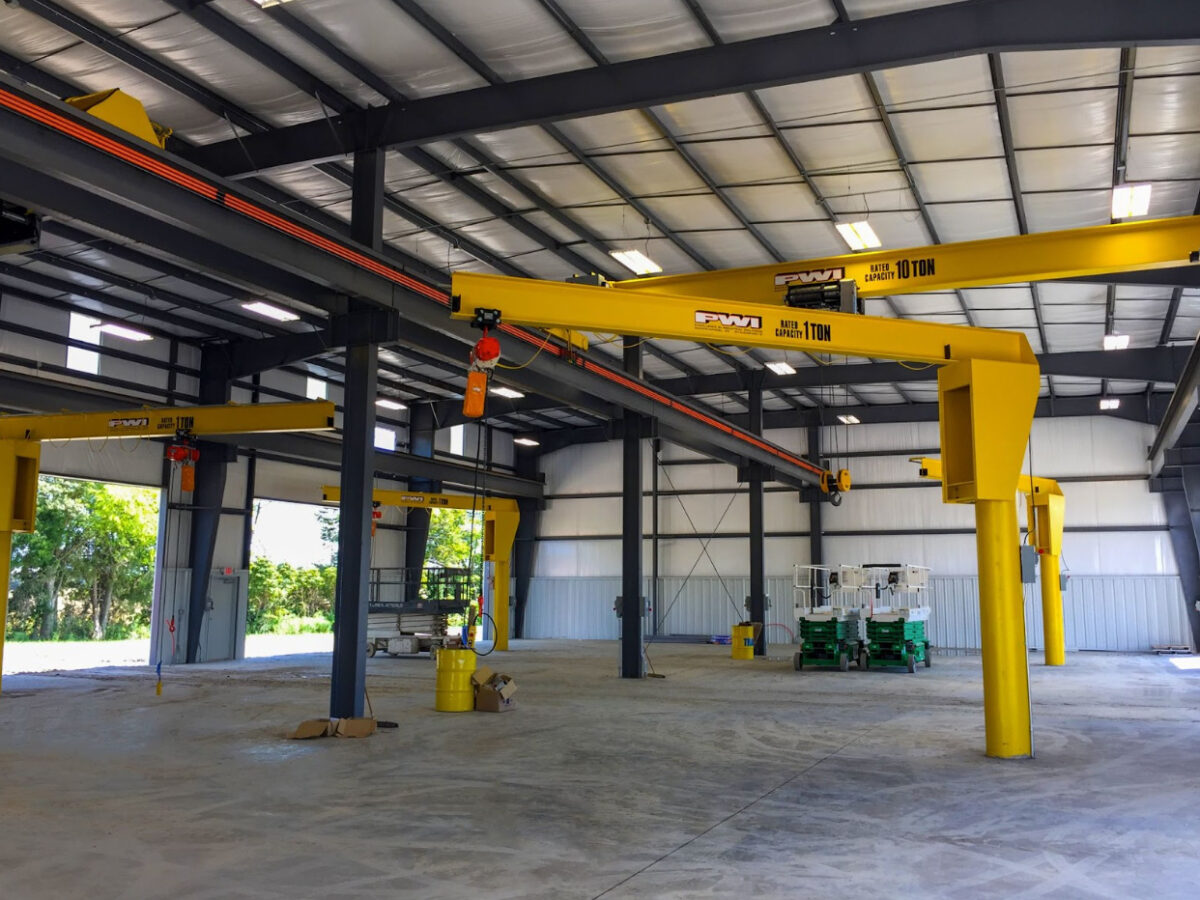 Free-standing jib cranes
So that they can hoist loads of up to 5 tons, free-standing jib cranes will always have some form of permanent foundation that anchors and secures the crane and support when lifting a load.
The foundation of a free-standing jib crane comes in three forms:
Base plate mounted: The mast is secured to a reinforced concrete foundation (using a bolted-in base plate) and reinforced with gussets.
Foundation mounted: The mast has a steel plate welded to the bottom that is anchored into the concrete foundation in the first pour. A second pour then supports the mast.
Sleeve-insert mounted: The sleeve is welded to a steel plate and anchored into the concrete foundation with the first pour. The mast is then inserted into the sleeve, leveled, and welded in place. The benefit of this system is that it allows for the relocation of the jib crane without damaging the mast.
Foundationless free-standing jib cranes by contrast only have a capacity of around 1,000 pounds.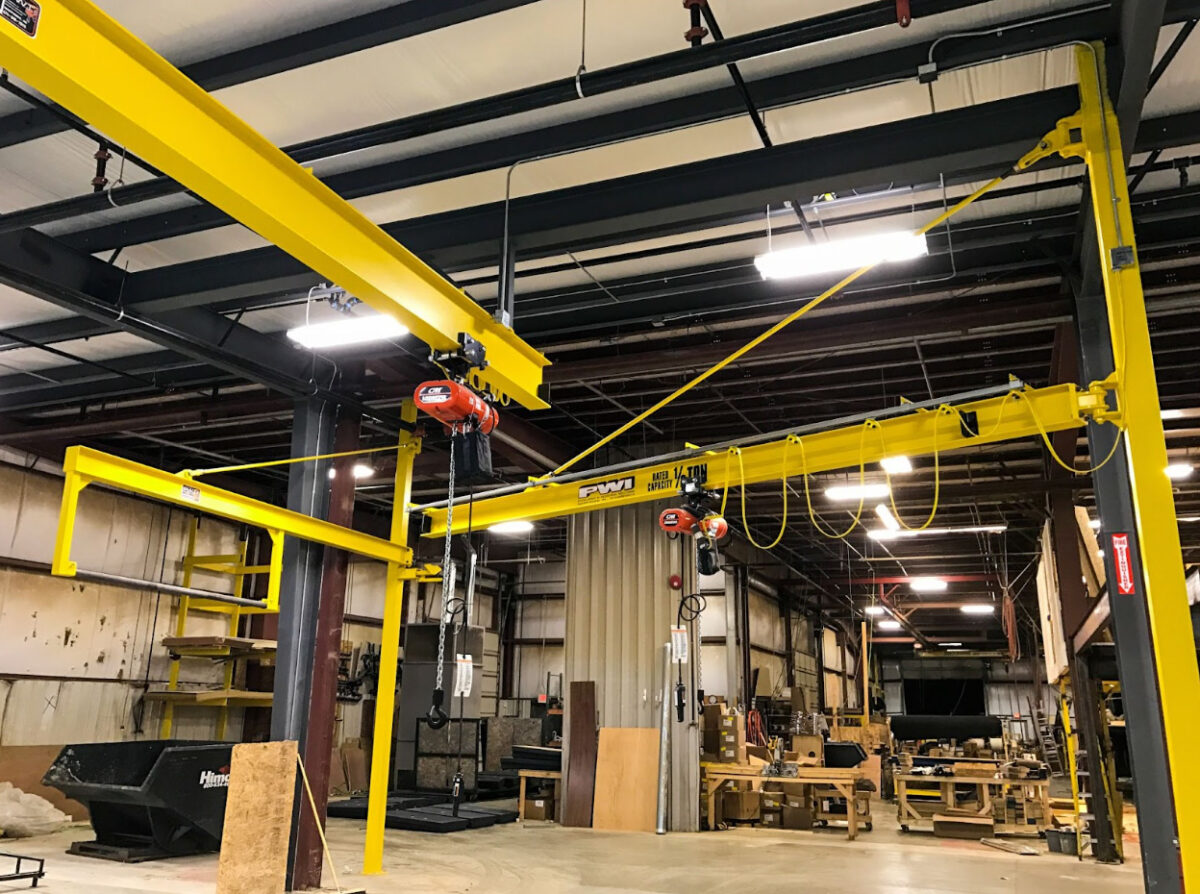 Mast-type jib cranes
Much like a foundationless jib crane, mast-type jib cranes only require a 6" concrete foundation and have a capacity of up to 5 tons, but this is only possible because they are also supported at the mast by an existing overhead support beam or structure.

Mast-type jib cranes can be used with either a full or drop-cantilever design so that they can be installed in a workspace that uses an overhead crane system.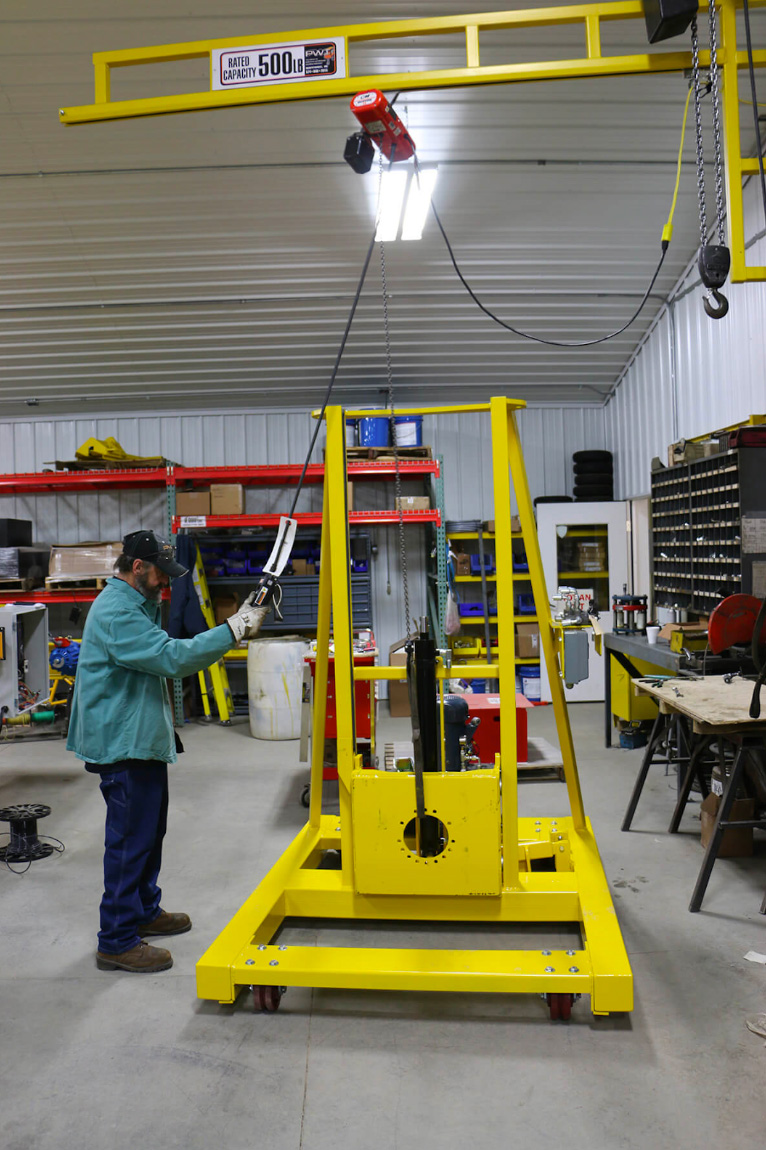 Wall-mounted jib cranes
Wall-mounted jib cranes are often used for specific purposes and for when space-saving is essential. They do not require any floor support and can be positioned very close to overhead obstructions.
The capacity of a wall-mounted jib crane is up to 3 ton and the upper limit will depend on whether they are attached to a wall or a support column.
The swinging design means they can be used to maneuver loads easily around or under obstacles and adapt to other requirements of the production space.
What do I need to know before I buy a jib crane?
Jib cranes are usually required to fulfill specific purposes and provide hoist solutions in spaces that are more restricted. For this reason, the exact limitations of your workspace, and the lifting requirements will determine what kind of jib crane you need to use.
What structural support options are available?
Both wall-mounted and mast-type jib cranes require structural support. This is either at the top for a mast-type jib crane or in the main attachment to a vertical surface for a wall-mounted jib crane.
In both cases, structural support beams or solid walls are crucial to their installation, but it is especially important for wall-mounted jib cranes to have structurally sound support. For this reason, it is crucial that a structural engineering survey of your work area is performed and approved before installation.
A free standing jib crane is self-supporting and if it has a capacity of 1,000 lbs or less probably doesn't need a foundation.
What do you need to move?
The dimensions and weight of the load you require moving will impact what type of jib crane is most suited to your work area. The best place to start is with the maximum load weight:
Free-standing jib crane – up to 5 tons
Mast-type jib crane – up to 3 tons
Wall-mounted jib crane – up to 3 tons
Each system also has limitations on the maximum span of the boom and this will determine what dimensions of load can be lifted and maneuvered. Whatever the dimensions are, you should also be aware of the available space in the work area to allow for free rotation of the boom.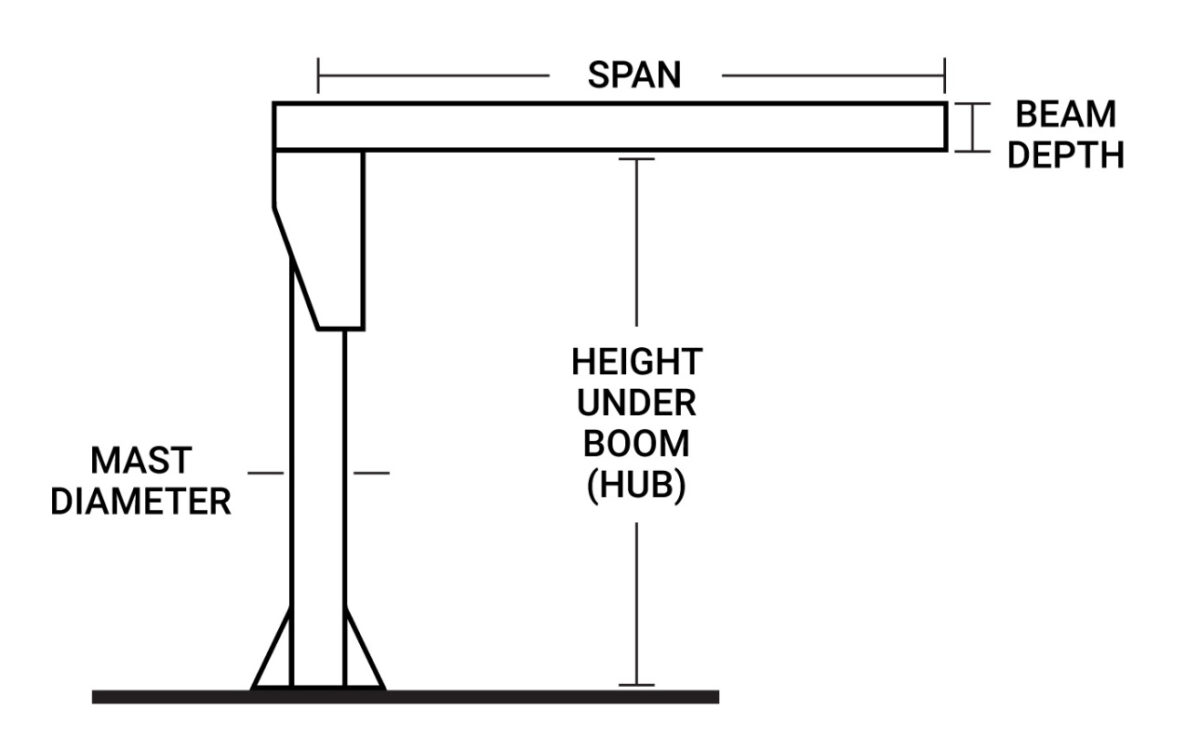 The approximate span of each jib crane is:
Free-standing jib crane – up to 20'
Mast-type jib crane – 10-20'
Wall-mounted jib crane – 8-20'
Where do you need to move it?
Whether you need to move the load or are just looking to support it—perhaps use it with another piece of machinery—will determine what type of jib crane is suitable.
All jib cranes will have a large scope for rotation, up to 360 degrees, making them ideal for maneuvering loads around corners or between workstations. Wall-mounted jib cranes have a reduced rotation of between 180 and 200 degrees and will therefore have more limited applications.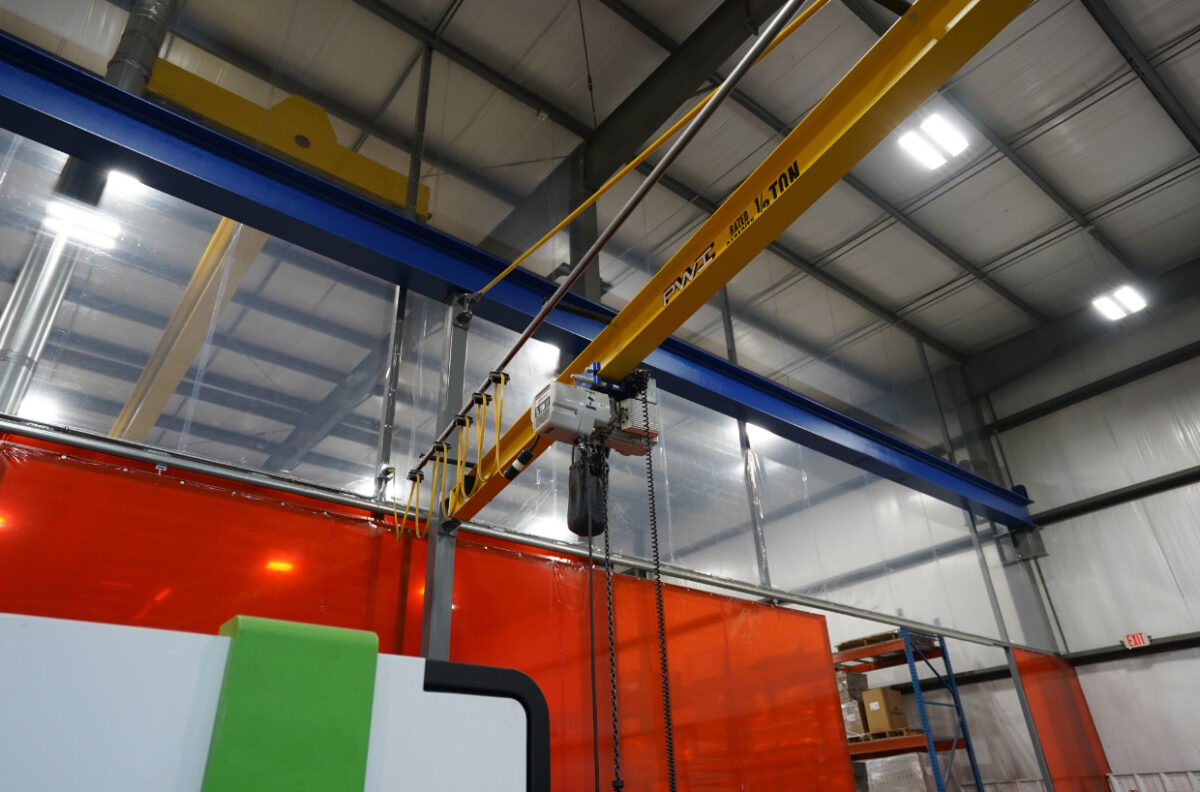 Another solution for maximum maneuvering capacity is an articulated jib crane. They have two swivel arms that allow you to lift loads around corners and columns, or reach into and under other spaces. The primary boom arm can rotate 200° (360° if set up with the correct electrification system) and the second arm can rotate a full 360°.
Articulating jib systems can also be mounted in a variety of ways, to the floor, wall, ceiling, or a bridge or track system. This means that the jib crane can provide more precise load positioning in tighter and more difficult to access areas where a conventional crane would struggle.
If this sounds like the right solution for your work area, just be aware that the boom span is limited to a total of 16' and the capacity is usually up to one ton.
How much do jib cranes cost?
A jib crane can cost anywhere from $2,000 to $30,000 and it is entirely dependent on what your requirements are.
To put it simply, the higher the weight capacity, the higher the cost will be. With an increase in capacity, you could also need a free-standing jib crane system. This will require foundations that will come at an additional cost both in terms of surveying and installation.
What type of hoist can go on a jib crane?
Manual and electric chain hoists are commonly used on jib cranes.
On some high-capacity jib cranes, it is better to use wire rope hoists because of their speed capabilities and low headroom design.
What are the advantages of a jib crane?
The greatest advantage of a jib crane is its ability to serve a compact area efficiently. Because of the minimal structural design, the footprint of a jib crane is far less than other overhead cranes allowing you to maximize your work area.
The minimal structure has the added benefit of being able to combine with other overhead cranes thanks to options for increased headroom clearance. This can increase productivity and reduce the risk of workplace accidents by providing a convenient and efficient lifting solution for a compact area.
This convenience is especially important when working with obstacles in the workplace. A jib crane's unique ability to reach around obstacles—even underneath or into awkward spaces using an articulating system—makes it highly applicable in a variety of work areas including:
Production areas
Assembly lines
Brake press and die equipment where it is hard to reach or set equipment from overhead
Loading heavy equipment into a semi trailer or shipping container
They are also relatively inexpensive compared with other overhead cranes.
Some jib cranes are also set up with palette forks, a heavy plate, or concrete base so they can be easily relocated with a forklift.
What are the disadvantages of a jib crane?
One of a jib crane's greatest advantages is equally one of its disadvantages. That is the fact that jib cranes are designed to service a small area and they cannot span large distances.
The maximum working span of a jib crane is determined by the boom length.
Jib cranes are also generally not renowned for their huge capacity. In most cases, the highest capacity jib crane will be around 5T. To achieve this load level, you would need to use a free-standing jib crane which means factoring in the additional foundation and (potential) surveying costs.
Are there better alternatives to jib cranes?
An adjustable gantry crane can be equally or even more economical than a jib crane and it provides more flexibility because it's portable while retaining a compact form.
If you require greater load capabilities from a crane system and still need to cater to a large work area where space is scarce, then a bridge crane could be a great solution.
A bridge crane is a more expensive and more permanent solution. For these reasons, it is worth considering how your production output will be increased and whether the investment can be justified.
Workstation cranes provide several advantageous features over jib cranes. They often have greater span capabilities and can service multiple work zones.
Because of their structural design, most do not require any foundation work at the time of installation, and since they're modular they present the opportunity to "add on" for future expansion.
Plus, if planned correctly, the support structure for a workstation crane support structure can be installed outside of the hectic working space.
Still have questions?
PWI is always looking for ways to help manufacturers increase production. Request a quote or call our office at (574) 646-2015 to talk with one of our overhead crane experts to discuss your production bottlenecks and how an overhead crane (jib, gantry, or workstation) could maximize your production.